Recipe Of The Month!
Check out our recipe below, this recipe is a traditional recipe we want to share with you to celebrate the Thai New Year.
Tom Kha Gai* [GF]
Traditional Chicken Coconut Soup with Thai Herbs
Serves 4 as a starter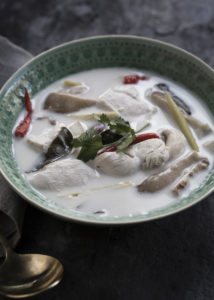 Ingredients
300g chicken fillets, thinly sliced
800ml coconut milk, 21% fat
400ml chicken stock or water
80g lemongrass, chopped
80g galangal, sliced
50g shallots, chopped
4 kaffir lime leaves, torn
4 bird's eye chillies, crushed
¼tsp salt
1tsp sugar
3dsp fish sauce
4dsp lime juice
150g oyster mushrooms, torn
10g coriander to garnish
10ml chilli oil to garnish
Cooking method
1. Put the coconut milk and chicken stock in a pot and bring to a simmer.
2. Add the lemongrass, galangal, shallots, kaffir lime leaves and bird's eye chillies and continue to simmer for a few minutes.
3. Season with the salt, sugar, fish sauce and fresh lime juice. Add the sliced chicken and mushrooms.
4. Total cooking time should not take more than 8 minutes, but always check that the chicken is cooked.